Stairs
Available Mezzanine Stairway Products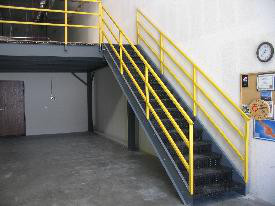 AMFI industrial stairways and staircases are easy to ship and install and can be constructed to meet local as well as IBC, OSHA, and ADA requirements.
Constructed of structural mezzanine steel components and heavy duty, slip resistant diamond plate treads make our stairways sturdy and last a lifetime.
The stringers and handrail ship as one welded section, making it easy to bolt in the treads and move on to the next phase of your project quickly.
Specifications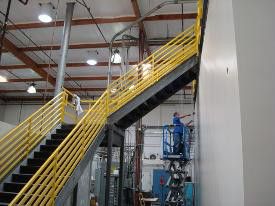 Standard widths of 36", 42", 48", as well as custom sizes
Closed risers standard, open also available by request
Tread material is available as diamond plate and/or bar grate
IBC, OSHA, ADA and Exception designs all available
Landings required for heights exceeding 12'-0"
Available in knock-down or fully assembled
Custom match any paint color