Rack Protectors
AMFI's steel E.O.R. or "End of Row" line of rack protectors are the strongest, easiest, and most cost effective way of protecting storage racks from incidental forklift damage frequent to warehouse operations.
Painted safety yellow making them easy to see and being constructed of 10" schedule 40 pipe stock welded to 5" x 3" x 3/8" steel structural angle with anchor holes at 18" O.C. max. make them a sturdy and smart addition to your operation.
Being able to withstand everyday forklift damage, AMFI End of Row steel protectors are the smart choice for your rack protection needs.
Specifications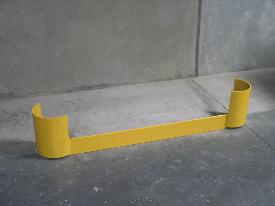 Protect your investment and structural stability
Bolts to floor for a high impact rating
Prevents lift truck damage
Promotes safety and awareness
Avoid downtime due to rack damage
Ends are elevated to avoid hitting base plates
Available in all sizes, single or double sided
Safety Yellow standard, other colors available
3" x 5" x 3/8" angle standard with 12" tall 3/8" thick half moon, light duty option available
Shelving E.O.R. protectors also available (shown at bottom)