Guardrail Systems
Deck Mount or "Pocket" Style Handrail Systems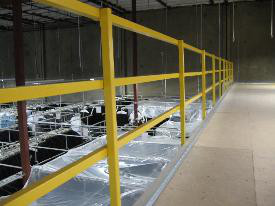 AMFI steel handrail is constructed of sturdy 13 ga. 1-1/2" x 1-1/2" sq. tube supported on the posts by structural angle clips for a strong yet fast to install product.
We have both a deck mount design that utilizes a 4" sq. baseplate as well as a sleek "pocket" style design that does not take away from your valuable industrial floor space.
Our engineered design is built to exceed point loads from impacts caused by people or light equipment ensuring personnel safety in your facility.
Specifications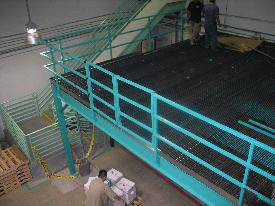 Protect your employees and promote traffic flow
1-1/2" x 1-1/2" x 13 ga. tube standard, other materials also available
Floor mount (at bottom) and "pocket" (top) designs available standard
Floor mount style can attach to open type decking by utilizing a backer plate
42" tall standard with posts at 5' O.C. max for strength and to meet codes
2, 3 & 6 rail styles available and in stock